This year, we pay tribute to 1977 — when Star Wars dominated the box office, the world said goodbye to The King, and Coneheads became a Saturday Night Live classic.
The annual Shine A Light concert kicks off in the legendary Queen Theater in Market Street on Saturday, March 4th at 8pm, and it was a complete SELL OUT.
But don't let that stop you from becoming part of the groovin' crowd if you can't make it!
If you can't enjoy the night from the main room or if you know someone else who wants to tune in from afar, we've got you covered.
The Light Up The Queen Foundation and Möbius New Media presents the entire night, in full, via live webcasting. 
Please click over to lightupthequeen.org/sal77 to enjoy the night from your cozy living room, from three states over, or from wherever the night happens to take you. This webcast has been previously recorded.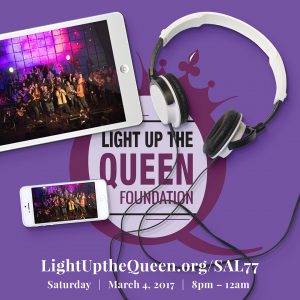 The money raised from this annual event goes to support the Light Up the Queen Foundation and all its programs. Funding allows children to take part in educational events such as the nationally-recognized Boysie Lowery Living Jazz Residency in the summer, that brings together young composers from all over the country to explore a rare learning opportunity.